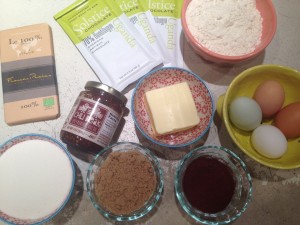 This is the end, dearest friends, to one of the most delicious weeks I've had this year.
We've used Chili Beak for breakfast, lunch, and dinner. We've mixed, stirred, pulsed, and baked it into zesty dips and spicy tacos and more. So, naturally, we couldn't leave you without a knockout dessert option. Brownies! Because duhhh.
Matt recently taught Chocolate Through the Ages, just one of the classes we offer. We explored how cacao was originally prepared (savory drinking chocolates) in the Mayan and Aztec cultures and followed the evolution of chocolate to the artisan bars being made today. Chocolate and chilies have been pals for centuries, each complimenting the other in some really cool and, well, extremely sexy ways. I felt inspired by all of this knowledge droppin' to create a spicy brownie in the hopes of presenting everyone with an unexpected little treat. Also, I just need more friends. So, enter brownies.
I harassed Matt for a chocolate selection for such a recipe, and he sent me home with a handful of Solstice Uganda bars to attempt making these treats. It worked. It really, really worked.
I love the dense, fudgy texture that's juxtaposed by a crispy, even spicer top layer. It's everything a dessert should be in my opinion. Luxurious, not too sweet, and complex (yes, even for brownies).
I hope everyone enjoyed Chili Beak week as much as we have. Go forth, stir that Chili Beak, add it to everything, and never, ever look back.
Chili Beak Brownies
Makes 16-20
8 ounces 70-75% dark chocolate (Solstice Uganda wins), chopped
2 ounces unsweetened chocolate (I love using the Pralus 100% bar), chopped
1 stick, plus 2 tablespoons unsalted butter
1 cup granulated sugar
1/2 packed cup light brown sugar
3 tablespoons Chili Beak, plus more for drizzling
4 large eggs
1 teaspoon salt
1/4 cup unsweetened cocoa powder
1 1/2 cups all-purpose flour
Preheat the oven to 350°.
Combine both sweetened and unsweetened chocolates with the butter in the bowl of a stand mixer set atop a saucepan of simmering water and stir until melted, then reattach to the stand mixer. Using the whisk attachment (or electric handmixer), beat in both sugars with the Chili Beak. Add the eggs and salt and beat until smooth. Sift the cocoa and flour into the bowl and beat until blended.
Scrape the batter into the prepared pan and use your spatula to mostly even out the batter. Using a teaspoon, scoop a small amount of Chili Beak into a small pile on top of the batter and drag the spoon through the Chili Beak and batter to create spicy swirls atop the batter. Bake for about 45 minutes, until the brownies are set around the edges but slightly wobbly in the center; a toothpick inserted into the center should have some batter clinging to it. Transfer the pan to a rack and let the brownies cool, then cut into squares and serve.