A chocolate and caramel tart created by Caputo's Executive Chef Marshall Bryant, using one of the best local chocolates Caputo's carries, this recipe serves a large group (or a smaller, voracious one). For a smaller batch, simply cut amounts in half.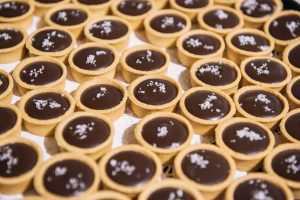 CAPUTO'S SOLSTICE CHOCOLATE MINI TARTLETS
Makes 75 mini-tarts, or few, larger shells

COOKING TIME: 1 HOUR TOTAL
You'll need:
12 oz. of Solstice Wasatch Chocolate
1 quart, plus 4 oz. of cream
1 lb., plus 2 oz. unsalted butter
1 lb. sugar
Pre-made tart shells (we're using the mini bite-size shells)
THE CHOCOLATE:
Melt the chocolate over low heat until all chunks disappear, then add 2 oz. of butter. Stir until the butter is completely incorporated into the chocolate, then add 4 oz. of cream, and stir until smooth.
THE CARAMEL:
Melt sugar until it is golden brown (approximately 315 degrees). Remove from heat. Stir in 1 lb. of butter, then slowly add in 1 quart of cream. Stir until smooth.
THE FINALE:
First, fill the tart shell about half of the way with caramel. Add chocolate mix until tart shell is filled to almost capacity. Finish off the tarts with a very light sprinkle of fleur de sel. Serve to guests. Accept compliments graciously. Save a large number for yourself.