Salt Lake City's newest bean-to-bar chocolate maker Solstice Chocolate is now part of our award-winning, craft-chocolate selection. Owner Scott Querry has developed his love and passion for chocolate over the last 15 years and is now the company's sole chocolate maker.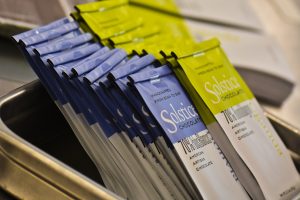 "Using little cocoa butter, but no vanilla, their chocolate is one of the most well executed we have," says Matt Caputo, CEO of Caputo's Market & Deli. "From their unique and functional packaging to their flawless tempering, Solstice embodies truly incredible sophistication and depth of nuance."
High-quality, hard-to-find, organic cacao beans are processed with organic cane sugar and organic cocoa butter in extremely small batches with a meticulous process and eye. The result is mature, full-flavored, single-origin bars that have stolen a piece of our hearts.
Here's an added bonus: Solstice is not just delicious, there's an incredibly pure, mindful process behind its deliciousness. The company strives to minimize its carbon footprint by eliminating waste during production and offering its chocolate in 100% biodegradable and resealable bags.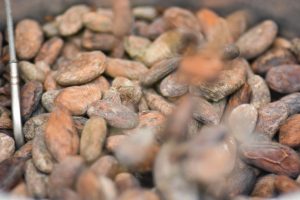 Don't let this fool you into thinking they are just another marginal "artisan" or "craft" chocolate pop-up. You can tell this chocolate is chef-approved by looking at a number of menus around Utah. "The raw energy behind Solstice Chocolate has their vibrant chocolate popping up on the best menus around town," Caputo says. "The restaurant industry has never shown this level of support for a Utah craft-chocolate company."
Solstice's skillful chocolate-making produces straightforward bars that scream the origin of the cacao beans loud and clear. Terroir is never a mystery with Solstice. "Some would call their style loud and brash," Caputo continues. "When the notes are as clean and pure as this, I say rock on!"

Solstice Chocolate's current lineup includes a total of five bars. One blend, titled Wasatch, and four single origins: Bolivian Palos Blancos, Madagascar Sambirano, Uganda Bundibugyo, Ecuador Camino Verde. Here's some more information and tasting notes for each bar:

Description and Tasting Notes (provided by Solstice Chocolate):
Solstice Bolivian premium chocolate bars are handcrafted from Palos Blancos cacao beans. Palos Blancos is harvested from a damp rainy region of Bolivia. This climate gives rise to the unique qualities of this rich elegant chocolate. Tasting Notes: This deep rich chocolate has subtle notes of nuts, honey, and fresh cream.
Solstice Ecuador premium chocolate bars are handcrafted from cacao grown by Camino Verde Estate, a farm located near the southern coastline of Ecuador. This plantation uses unique fermentation methods to produce sweet decadent cacao. Tasting Notes: This aromatic sweet cacao results in a unique chocolate with delicious notes of brown sugar, caramel, banana, and cream.
Solstice Madagascar premium chocolate bars are handcrafted from Sambirano cacao beans. Sambirano beans are cultivated from a distinct tropical climate along the Sambirano River in Madagascar often referred to as "the green gold of Madagascar." Taste Notes: This unique tangy chocolate has hints of citrus and berries believed to be a result of former fruit plantations enriching the soil during French Colonial times.
Solstice Uganda premium chocolate bars are handcrafted from fine cacao grown in Bundibugyo. This area is part of the flourishing growth of cacao farming in Uganda. Taste Notes: This dark chocolate has a subtle bitterness of cocoa powder with fresh, earthy hints of berries and tree fruit.
Solstice Wasatch Blend chocolate bars takes its name from the Wasatch Mountains of Utah, the home of Solstice Chocolate. This is an original combination of cacao beans created to showcase Solstice's love of chocolate. Taste Notes: This unique blend of cacao creates a chocolate which is both mild and exciting, with an essence of cream and subtle sweet spice.
All images provided by Solstice Chocolate
More from Chocolate Week:
A Primer on Solstice Chocolate
Solstice Drinking Chocolate Recipe
Caputo's Solstice Chocolate Mini-Tartlets
A Retrospect of Past Chocolate Festivals
Recipe: Adri's Festive Wasatch Tart
The Menu for Chocolate Fest Featuring Solstice Chocolate
Ask Matt Caputo: What is the Best Process to Taste Fine Chocolate?