Caputo's Chocolate Week comes at the perfect time of year. Our annual Chocolate Fest puts me in the mood and mindset for the holidays and festivities, but it also gives me a chance to start testing desserts for the family dinners and fun holiday parties to come. My family has a knack for making enough food to feed an entire village, but we do our best to minimize the menu as much as we can every year. We always make the usual pumpkin, pecan, and apple pies, and these are also often accompanied by another cream-based or chocolate-based pie.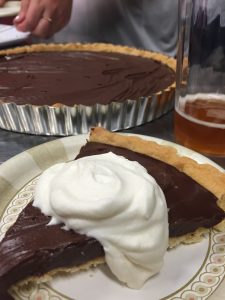 This year, I wanted to find a way to incorporate a chocolate dessert without making yet another deep-dish pie. Chocolate pies rely heavily on cocoa powder for flavor, but I like having more control of the nuances. Basically, I want a chocolate pie with a third of the volume, no cocoa powder, and to be made exclusively with chocolate bars.
Meet the chocolate tart. Thin, sweet pastry dough holds a thin layer of rich, luxurious chocolate and a dollop of bitters flavored whipped cream. My first attempt was so successful it garnered a happy dance and a phone call to the family. Solstice's Wasatch Blend bar made an earthy, balanced tart base that was enlivened with a Beehive Bitters spiced orange whipped cream. It was festive, delicious, and a quarter of the size and effort of our usual chocolate pie.
Save this recipe for your upcoming holiday parties. You can also use your favorite chocolate bars and bitters to make this your own.
Wasatch Blend Chocolate Tart
Serves 8-12
Tart Dough
Mix all ingredients with a stand or hand mixer until there are no dry patches. Chill for at least 4 hours or overnight until firm. Preheat your oven to 350 degrees. Roll dough out to about 1/4 inch thickness or until there is an excess of about 3 inches in diameter to fit an 8-inch tart shell. Press dough into the shell and bake 20-25 minutes or until golden brown. Allow to cool before removing the tart ring from the shell.
Chocolate Ganache Filling
Simmer a small pot of water. Set a metal or glass bowl over it, making sure there is air between the bottom of the bowl and the simmering water. Pour cream into bowl and heat until it's warm enough to melt the chocolate. Add chocolate and stir to melt. Once the chocolate is melted, use an immersion blender or whisk to combine. Whisk until your ganache is fully blended. Stir in fleur de sel in small pinches, to taste. Set aside to cool for about 15 minutes, then pour into the tart shell. Chill until ready to serve, but remove about 15-20 minutes before serving
Bitters Whipped Cream
In a medium bowl, whisk heavy cream, confectioner's sugar, and bitters until whipped, but still loose. We don't want stiff peaks, but enough volume to hold cream together when we top our chocolate tart with it. Adjust sweetness and flavoring with bitters before serving.
More from Chocolate Week:
A Primer on Solstice Chocolate
Solstice Drinking Chocolate Recipe
Caputo's Solstice Chocolate Mini-Tartlets
A Retrospect of Past Chocolate Festivals
Recipe: Adri's Festive Wasatch Tart
The Menu for Chocolate Fest Featuring Solstice Chocolate
Ask Matt Caputo: What is the Best Process to Taste Fine Chocolate?