We can't wait till the actual Chocolate Festival for you to see what's on the menu, because it's just so exciting! So here it is.
At this year's festival, five chefs and local mixologists will use one of Solstice Chocolate's five bars to showcase sweet, savory, and boozy applications of the Salt Lake City craft-chocolate maker.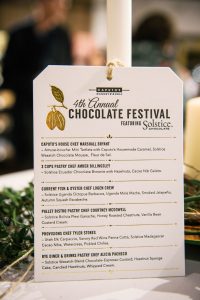 The all-star culinary lineup includes Chef Logan Crew of Current Fish & Oyster, Chef Tyler Stokes of Provisions, Pastry Chef Courtney McDowell of Pallet Bistro, Pastry Chef Amber Billingsley of 3 Cups, and Pastry Chef Alicia Pacheco of Rye Diner & Drinks. The tantalizing evening will begin with an amuse-bouche prepared by Chef Marshall Bryant of Caputo's. Wine will be served by Francis Fecteau of Libation, Inc., beers will be poured by Avenues Proper, craft cocktails will be mixed by Beehive Bitters and Sugar House Distillery, and pour overs provided by La Barba Coffee Roasters.