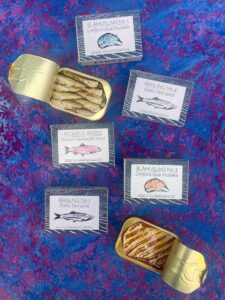 Fangst, which means 'catch' in both Danish and Norwegian, is on a mission to rediscover the abundance and elegant simplicity of seafood from Scandinavian waters. They do so by marrying Nordic species with Nordic ingredients, creating some of the most uniquely delicious, irresistible, and forward-thinking tins available today.
Today I'll discuss their history, share what I think makes them special, and show you how to create a gorgeous conserva salad with fresh fennel, burnt citrus, and Fangst's very own marinated Limfjord mussels.
About a century ago, there were hundreds of canneries dotting the coastlines of Scandinavia, but nowadays that number has dwindled to just a handful. Much like North America, tinned seafood in Northern Europe has for many years been synonymous with bargain prices and supermarket quality, and as a result was largely overlooked.
Enter: Fangst founders Martin and Rasmus, who for years gazed longingly toward their European cousins to the south; places like Spain and Portugal where quality tinned fish is both ubiquitous and widely celebrated. Knowing the abundance of delicious seafood from Nordic waters – much of which was caught for export – the duo set out to create a northern counterpart to Southern Europe's rich variety of conserva brands.
Today, as the premier contemporary conserva label operating in Northern Europe, Fangst is both looking toward the future and reawakening its region's storied past, creating products that live at the intersection of sustainability, gastronomic excellence, craftsmanship, and design.
By partnering directly with fisherfolk, company managers, fishery scientists, and restaurant chefs, Fangst diligently selects their production partners on a case-by-case basis. This enables them to work with small-batch producers and sustainably pursue less commonly harvested species, rather than solely align themselves with a singular labeling scheme (an approach often better suited for large-format operations).
In addition to making Fangst sustainable, this intention keeps their products nimble, creative, hand-made, and delicious!
Which is all to say, when the fine folks at Caputo's offered to send me out the full suite of their Fangst products to taste and review, I was expecting to be impressed. What I wasn't quite prepared for, however, was to encounter what I now consider one of my favorite conserva labels operating in the game today.
Not since I first discovered Conservas de Cambados have I been so instantly smitten with a tinned seafood brand.
This says a lot, too, given that Fangst is a private label, meaning they rely on co-packers in Denmark and Latvia to produce their tins. But even despite this, they've already done what is (understandably), very hard for private labels to achieve: they've created something new and unique.
As an example, let's take a look at their Brisling no. 1, Fangst's Baltic Sea Sprats smoked with heather and chamomile:
Inside a minimalist matte and satin box, awaits Fangst's iconic, golden tin, a purely aesthetic choice that somehow makes you feel like Charlie, waiting outside the Cockle Factory, golden ticket in hand.
Before cracking the lid, I was already a familiar fan of European sprats; those tender, tiny bait fish that are native to the waters of North-Eastern Europe and taste a lot like baby sardines.
But what I was unfamiliar with (in addition to this tin's botanicals, which we'll get into shortly) was the excellence of premium rapeseed oil, something that is also native to Nordic countries. For folks who haven't heard, rapeseed, called "canola" in the US, is high up on a growing list of seed oils that when compared to extra virgin olive oil, are conventionally considered "lesser than." What I've come to learn is that much of this distinction has to do with the industrialized, high-heat, and sometimes chemically-induced processes used to extract the canola that typically adorns our supermarket shelves. However, when it's cold-pressed in small batches and processed with care, rapeseed oil becomes buttery, nutty, and bright, and every bit as delicious as extra virgin olive oil.
It's also less overpowering, making it a perfect medium to amplify the subtle melodies of flavors that would otherwise be drowned out by the bold bass of EVOO. And so, cue the mossy heather and sweet chamomile, floral flavors which swirl beautifully around smoky sprats, culminating in a tin that's unlike anything I've ever tasted from southern Europe (or anywhere else for that matter).
Fangst Faroe Islands flash-grilled Salmon
Their other products are equally impressive. The Faroe Islands Salmon, presented as a single, petite fillet, flash-grilled and proudly displayed in a pool of liquid gold is as simple as it is perfectly executed. The blue mussels, slow-grown in the fjords of Denmark to acquire "a particularly fine taste and texture" are sweet, buttery, and irresistibly delicious.
And it is these herby and aromatic mussels, marinated with dill and fennel seed that form the base of my original salad which follows below.
To make it at home, head to the shop at Caputo's for Blamusling No. 1 and while you're at it, I highly encourage you to fill your cart with whatever other Fangst products they've got, if I don't beat you to it first!
Shaved Fennel Salad with Fangst Marinated Mussels and Burnt Meyer Lemon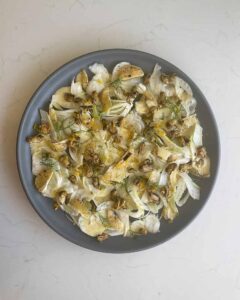 Shaved fennel salad – lightly dressed with pops of citrus and something salty – is a dish I make often, especially when it's hot. And when I tasted the aforementioned Fangst mussels (Blamusling No. 1), I knew these two were a catch made in heaven. A light dressing of neutral oil and apple cider vinegar marries the crisp, raw fennel with burnt wedges of meyer lemon. Topped with the meaty mussels interspersed amongst flavor-bombs of a fennel-garlic aioli (made from the tin oil those marinated beauties came bathed in), and finished with Meyer lemon zest and flaky sea salt, this dish is bright and balanced and bonkers delicious.
INGREDIENTS:
1 tin Fangst Blamusling No. 1 Mussels (marinated in dill and fennel seed)
1 medium fennel bulb, split, cored, sliced thin on mandolin (1-2mm slices)
Fennel frond
Zest of 2 meyer lemons
2 Meyer lemons, peeled, and cut into wedges
⅓ Cup avocado oil + 2 tbs, measured separately
1 Tsp apple cider vinegar, measured in two ½ tsp portions
1 Egg yolk
1 Medium clove garlic, crushed
Flaky sea salt, to taste
To make the aioli, place the egg yolk, crushed garlic, half the fennel frond, ½ tsp of apple cider vinegar, and pinch of salt in a small cup that's the right size and shape to accommodate an immersion blender. (note: this recipe can also be made with a good whisk, wide mixing bowl, and elbow grease). Blend the ingredients on high until well incorporated. Slowly drizzle the ⅓ cup of avocado oil, blending to emulsify. Crack the lid of the mussels. Ogle their beauty. Gently drizzle the tin oil into the cup, blending to emulsify. Be careful not to lose any of the mussels in the process. Stir in half the lemon zest and salt to taste. Funnel into a squeeze bottle and set aside.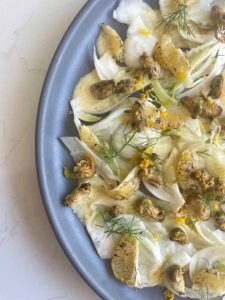 Line a metal baking sheet or tinfoil with the meyer lemon wedges. Hit them with a torch until lightly charred. Flip and repeat. (note: if you don't own a torch, you can sear them in a hot cast iron skillet instead)
Mix the remaining avocado oil with the remaining apple cider vinegar and a pinch of sea salt.
Toss the fennel in ¾ of the dressing and plate flat on a platter or shallow bowl. Afterward, add the burnt lemon to the mixing bowl and toss with remaining ¼ of the dressing. Carefully arrange the citrus atop the fennel to your liking.
Arrange the mussels next, followed by generous dots of the aioli, the remaining fennel frond and lemon zest and finally a dusting of flaky sea salt.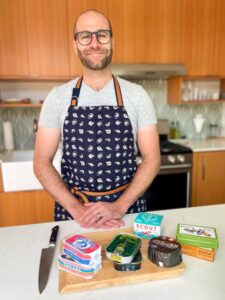 Harrison Weinfeld aka The Sardinfluencer is a writer, a cook, and a tinned-fish fanatic who's on a mission to bring sustainably-harvested and responsibly-farmed conserva into home kitchens around the world.