My first, favorite, and funniest memories at Caputo's all began with the classes. Tony has taught me as much as the matriarchs of my own family—from culinary technique to developing my own personal style of cooking, I have so much to thank the Caputo's for. Taking over the cooking classes was incredibly intimidating, but also incredibly rewarding. Tony left some big shoes to fill, and I think my feet are finally starting to grow into them.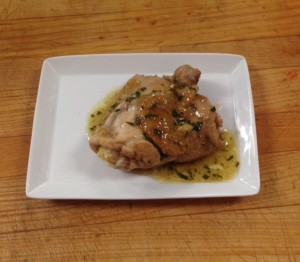 I love creating and finding recipes that use high quality ingredients and that don't require millions of gizmos and gadgets to make successfully. The James Beard class taught at our downtown store was the perfect example of this. James Beard left a legacy of greatness, and it was such a great time to honor him and his plethora of books and recipes. My very favorite dish is one that I find myself making more often than I should probably admit.
Tarragon is a relatively recent love of mine. I grew up on parsley, rosemary, and thyme, so tarragon was a welcome new flavor I began using about 10 years ago. A decade later, this is my favorite way to let the flavor shine. The tarragon does the talking for this dish, which has a base of chicken, butter, and wine. Can it get any more simple than that? I made a small change to James' orignal recipe by substituing Rose for Riesling. I'll cook with rose any chance I'm given, and this is one of those times that created a lovely culinary moment for me. The process is quick, simple, and the aromas it gives off in those last 20 minutes of cooking are sheer heaven. Make this for you, make this for your loved ones, but just be sure you make this. James, Tony, and I would be proud.
Chicken Sauté with Tarragon
Serves 4
"The secret of good cooking is, first, having a love of it. … If you're convinced that cooking is drudgery, you're never going to be good at it, and you might as well warm up something frozen." -James Beard
• 6 tablespoons unsalted butter
• One 3 ½ pound chicken, quartered
• ½ cup Rose wine
• Kosher salt and freshly ground black pepper
• 2 tablespoons finely chopped fresh tarragon
Melt butter in a very large skillet (not uncoated cast iron) over medium-high heat. Working in batches, add chicken to the skillet, skin side down, and brown quickly, about 3 minutes. Turn chicken skin side up, add the wine, and reduce heat to medium-low. Season with salt and pepper. Cover and cook, turning occasionally, for 30 minutes. Sprinkle with tarragon and continue cooking until the chicken shows no sign of pink near the thighbone. Arrange on a platter. Bring the pan juices to a boil over high heat, scraping up the browned bits in the skillet and reduce for about 2 minutes. Pour over chicken and serve.