Having grown up in New Mexico—where the state tree is the piñon pine—piñon-based sweets were a common and welcomed holiday treat. Candies, chewy brown sugar rolls, and toasted nuts are part of the holiday tradition. I lucked out as kid with both this sweet, local tradition and a large Italian family who had a habit of over-enthusiastically celebrating the holidays with copious amounts of sugary morsels. Pignoli cookies and piñon brittle were always favorites of mine, and they are some of the first treats I begin making as the holidays approach.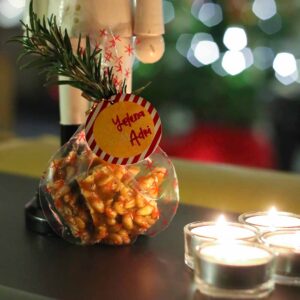 The excitement around here for our bitters selection is as palpable as that of a child on Christmas Eve. Every week brings us a new discovery and tasty new applications for them. December's bitters Craving, Addition Rosemary cocktail spice, captures the essence of the holidays and begs to be used in both drink and treat. Mixing rosemary's assertive, pine-like aroma and pine nuts from my past seemed like a natural, albeit necessary, union.
I love giving homemade treats to co-workers and friends. It feels more personal than store-bought candies, and I love the opportunity to spend time in the kitchen with a few friends. Pine nut brittle is an incredibly easy gift that is made even more delicious and sophisticated by the addition (no pun intended) of rosemary. Freshly chopped rosemary and fleur de sel give this adorable gift a lovely, complex flavor.
Make a batch for gifting and a batch for yourself. Beware of doubling this recipe, though. A double batch will require two separate parchment-lined cookie sheets, and evenly dividing the caramelized sugar is quite a challenge. It's possible to evenly separate them, of course, but two batches come together just as quickly.
Stay tuned for more holiday treats and gifting ideas, and I hope everyone is as excited as we are for the upcoming celebrations!
Rose-Merry Pine Nut Brittle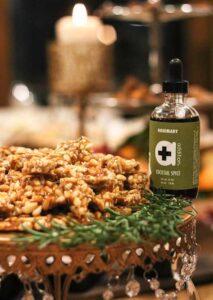 Makes enough for one small dinner party, or 8-10 gift bags
Time: 15 active, 1 hour for cooling
Difficulty: 2
Wow Factor: 6
Essential Ingredient: Addition Rosemary Cocktail Spice
In a large skillet, melt sugar over high heat, stirring constantly. Once sugar has melted, lower heat to medium high and stir until sugar is a dark golden brown. Stir in half the salt, pine nuts, Addition Rosemary, and butter. Stir to toast the pine nuts for about five minutes. Pour mixture out onto a parchment-lined baking sheet. Spread to deisred consistency and top with fresh rosemary and the second half of salt. Allow to cool for one hour. Break into pieces and keep in an air tight container or pack into gift bags (like above).