Creminelli Fine Meats are a staple in our meat counter for a reason. These precious pieces of meat gold are made in the Old World Italian style, hand-tied, and cured to perfection. The recipes are produced here in Salt Lake by salumi royalty and use pork from family farms that operate on a small scale and raise their pigs the way pigs should live: with pasture access (pigs are creatures of comfort and like to be warm when it's cold, cool when it's hot, so they like shelter), in proper social structures (i.e. with their families and social groups), good vegetarian feed (not industrial detritus); and never ever treated with antibiotics.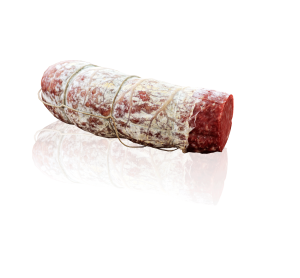 These great sticks of joy can be used as a centerpiece on any artisan charcuterie board, tossed quickly on top of Neapolitan style pizza, or diced up in a ten minute pasta like my Aglio E Olio recipe. Truth be told I was going to make pizza, had the dough all beautiful and plump, sauce balling out. Then my oven broke. No lie. Game-changing anger. Two choices boiled in my brainstomach: Eat the salami all sad and alone on a cutting board, or open the pantry doors and dig for a meal. Super simple, easy and affordable.
---
Aglio E Olio with Creminelli Salumi 
1 lb. of pasta (any kind, but longer cut is the classic Campanian approach)
4-6 cloves of minced garlic
1/2 a cup of extra virgin olive oil
A grip of parsley (1/4 cup minced up)
1/2-1 teaspoon of red pepper flakes
Salt and pepper for tasting
1 stick of Creminelli Campania salami (any Creminelli salami will do, I just like the juxtaposition of spice and smoke with this style)
1 cup of grated 2-year Parmigiano-Reggiano cheese
Bring a large pot of lightly-salted water to a boil. Cook pasta in the boiling water, stirring occasionally until cooked al dente, about 10-12 minutes. Drain and transfer to a pasta bowl when ready. While pasta is boiling, combine garlic and olive oil in a skillet. Cook over medium heat to slowly toast garlic for about 10 minutes. Lower heat to medium-low when olive oil begins to bubble. Cook and stir until garlic is slightly brown, about another 3 minutes. Remove from heat. Peel the salami from it's natural casing and cut into small pieces. Stir the salami, red pepper flakes, black pepper, and salt into the pasta. Pour in olive oil and garlic, and sprinkle on Italian parsley and half of the Parmigiano-Reggiano cheese. Stir and toss, and stir and toss. Serve pasta topped with the remaining Parmigiano-Reggiano cheese.