We've had so much fun trying new recipes out with our beloved fennel pollen in preparation for this week, but it's time to touch on a classic recipe for today. There are few things in this world that love each other as much as pork and fennel do. It's a lovely symbiotic relationship that enhances the flavor of high quality pork and the aroma of the fennel pollen. You'll find various cuts of pork prepared with fennel pollen, seeds, or the entire vegetable across all of Northern Italy, but Piemonte is where I would pinpoint this combination if I had to. Let me tell, those Northern Italians had this figured out. Pork loves fennel and fennel loves pork, it's just that easy.
Here, we'll use the pollen as a rub for tenderloin. The longer it can rest on the meat before cooking, the better. I would also suggest cooking the pork until the internal temperature hits 145 degrees. This will keep it from drying out. If you prefer a more well done protein, there's no shame in a little extra cooking time. We'll finish this dish with a drizzle of Tuscan condiment olive oil, so that extra hydration will go a long way for a longer cooked loin.
Give this classic a try. The weather is back on the cusp of warming up and this is a good, lighter protein option I love serving alongside farro or a big salad. Enjoy your daily dose of fennel pollen!
Fennel Pollen Pork Loin
Serves 4
1 pound pork tenderloin
1 clove garlic, thinly sliced
4 teaspoons fennel pollen, divided
1 ½ teaspoons salt
Freshly ground black pepper
2 tablespoons olive oil, divided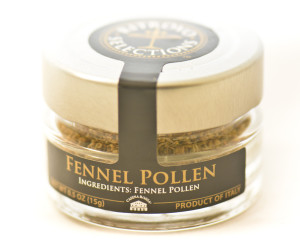 Cut about 4 shallow slits in the tenderloin, lengthwise, and stuff slices of garlic evenly amongst the slits. Combine 3 teaspoons of fennel pollen with the salt and pepper and rub all over the loin along with 1 tablespoon of olive oil.  Allow to sit at least 20 minutes, ideally 1 hour.
Preheat oven to 350 degrees. Heat a cast iron skillet over medium high heat with the remaining olive oil. Brown all sides of the tenderloin, about 2 minutes per side. Move skillet to the oven and bake for about 15 minutes, until internal temperature reaches 140 degrees.
Allow loin to rest about 10 minutes on a cutting board. Slice loin, remove to a serving platter and drizzle with your condiment olive oil of choice.