"Ask Matt Caputo" is an ongoing feature where Matt answers commonly asked questions from the market. This week, he reviews selections for a pairing we can't necessarily get behind – red wine and dark chocolate – but don't want to leave you hanging (without chocolate, that is).
Q: 
I know wine doesn't generally work as a good pairing with chocolate but do you have any recommendations for California wines and chocolate from makers in the USA?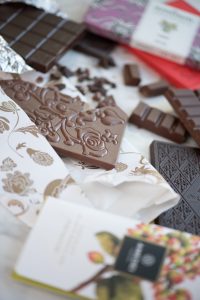 A:
Unless I already have a dessert wine open, I ALWAYS reach for something other than wine to pair with chocolate. The reason is that it is just almost always worse together than apart. At least when it comes to red and dark the type of dark chocolate that I like. Ya know, the type that tastes like cacao rather than a marshmallow. However, I have a friend who recently provided a list there is some California stuff on there, but my advice remains "reach for beer, whiskey, rum or Cognac and you will be much happier!"
That said, we know some will still reach for a bar of chocolate after opening a bottle of wine. If that's you, here is the a list of curated pairings from our friend Roxanne Browning of Exotic Chocolate Tasting:
PSST! Want to know more? Join us at an Intro to Fine Chocolate class!
Disclaimer: While Matt Caputo is a Certified Cheese Professional and specialty food fanatic, he is not a medical professional, doctor, or certified nutritionist. Please consult with your doctor or other qualified health care professional before making any healthcare decisions, diagnostics or treatment decisions based on Matt's answers.