Here at Caputo's, we love to marry tradition with innovation in the most delicious ways. You may or may not be surprised to know that chocolate and cheese actually make a marvelous match. If you need further convincing, take one of our pairing classes and allow your doubts to melt away in sweet cheesy bliss. Or come into a Caputo's near you and ask us to illuminate you with some of our favorite pairings! You can even let Blue's Chocolates do the pairing for you and try filled chocolates like parmigiano and honey, Double Skull Taleggio and red wine, and chabrin reserve and fig (using Caputo's cheeses and Solstice chocolate!).
And lest you think a blue cheese truffle might come as a bit of a shock to your palate, rest assured that the blue cheese we picked for this recipe, called Fourme au Moelleux, is a dainty dame of a blue cheese. It's not without a punch, but the brashness of the blue is a balanced by a tantalizing floral note. And because we are passionate about preserving food traditions, a cheese like Fourme au Moelleux serves not just as a palate-pleaser, but reads like a volume of history, preserving time and place in its rich blue veins. You can tell your friends while serving them that Fourme au Moelleux is actually a newer innovation to an ancient cheese called the Fourme d'Ambert. Originating in the Auvergne region of France, it has been produced using traditional methods since Roman times. Rodolphe Le Meunier (a.k.a. "the world's best cheesemaker") injects the creamy paste with Vouvray wine to amplify the flavors, a beautiful innovation to an ancient classic. Paired with Valrhona chocolate, a consistent and quality favorite among Michelin 3 star chefs, the truffles that result are unique and alluring, but subtle enough to please even your pickiest dinner guest.
Ingredients
6 ounces heavy cream
8 ounces Valrhona Guanaja, chopped, plus two chopped ounces for rolling
4 ounces Fourme au Moelleux, chopped in small pieces
In a small saucepan, heat the cream until boiling. Pour over the 8 ounces of chocolate in a small bowl, stirring until smooth. Let it sit until it arrives at room temperature. Then stir in the cheese and cover with plastic wrap, pressing the plastic wrap so it's touching the ganache (to prevent condensation).
Refrigerate for about an hour until the ganache is firm enough to roll into balls.
Scoop out the ganache with a spoon and roll it into a ball, placing the formed balls on a plate. Any size is fine, but I prefer to make blue cheese truffles a little smaller since they are so rich. You can ensure that they are perfectly round or a bit more "rustic" looking. Chocolate truffles were named after the original truffle, as in the mushroom-like fungus that grows on tree roots, so if your truffles end up bumpy and imperfectly round, tell your friends that they more fully resemble their namesake!
When all of the ganache is rolled, cover them and put them in the freezer for about 30 minutes. Meanwhile, melt the remaining two ounces of chocolate using a double boiler (or make your own by placing a metal bowl or smaller pan over boiling water). Pour the melted chocolate into a deep and narrow container (I use a short glass). You'll want the truffles to be fully submerged in the chocolate, so keep that in mind when choosing a container. After the chocolate has cooled slightly, drop a ganache ball into the chocolate. Make sure it is fully coated, and then lift it out with a fork, letting the excess chocolate drain off before rolling the truffle off the fork and onto a plate or parchment paper. Continue with the rest of the truffles. Let the chocolate shell harden and the truffles come back to room temperature, when the ganache is most creamy and delicious.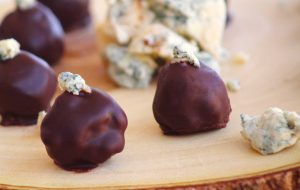 It may seem overwhelming, but making truffles is actually quite simple (the hardest part is coating them with chocolate without making a mess!), and the blue cheese adds a savory, creamy dimension that you'll love. Join us in delicious innovation on old classics, and tell us how your adventures go!