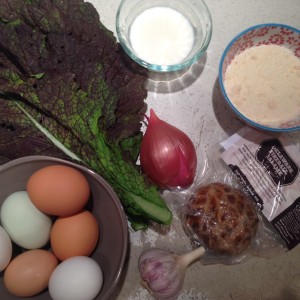 We're in the full swing of summer, and I couldn't be more excited. I've opted for early Saturday mornings at the downtown farmer's market in lieu of sleeping in, and it's proven to be incredibly rewarding. I've missed seeing my favorite local farmer and purveyors of all things delicious since the winter market ended. For me, the market feels like one giant gathering of all my favorite people and all the yummy things they make. It doesn't get much better than that—but in one way, it does.
When the market ends and the vendors close up, I'm left with heaping piles of produce, treats, snacks, and too many fresh flowers. The flowers are scattered across my home begging to be adored, and the food begs to prepared. I often buy just a tiny bit more than I myself can eat in the upcoming week, so I have to recruit some friends willing to help consume my market treasures. Thank goodness for my pals, they're real martyrs for my market cause.
I love hosting Sunday brunches rather than meeting at restaurants (hint: Saturdays make for a much quieter brunch scene when you want to frequent your favorite spots). It's easier, more casual, and I don't have to wait until 11:30 for my first mimosa.
Last week, I got my hands on tons of lovely hardy green from Ranui, a new jar of Toum from Laziz, eggs from Clifford Family Farms, and an extra jar of Chili Beak in anticipation of running out of my then current supply. My final stop is always at Caputo's for those little necessities like oil and butter, and, ya know, all of the other awesome things we carry.
But I stepped my game up this last weekend and snagged Delaware Fireball salami to really spice things up. Sunday is the Day of the Frittata, because duhhh. The custardy texture and adaptability of using nearly any ingredient make this a fresh and new kind of frittata each time I make it. If you've had frittata blunders in the past, here are my foolproof tricks to the perfect frittata:
-Use enough dairy. Pick your dairy of choice and stick to this simple ratio: 1/4 cup dairy for every 6 eggs. Milk, creme fraiche, yogurt, you name it. Go for it!
-Cast iron is your best friend. A heavy, well-seasoned pan lends itself to not-so-sticky eggs.
-Overcooking is the ultimate sin. Ain't nobody got time for dry, chewy frittatas. Cook at 350 degrees and begin checking for a set center at 15 minutes.
Try that post-market home brunch out, I'm sure you'll enjoy it as much as my pals and I have been these past few weeks!
Fireball Frittata
Serves 2-4
2

tablespoons

olive oil

1 Delaware Fireball salami, roughly chopped

1 shallot, chopped

1 bunch greens (something like chard, kale, mustard, or dandelion)
1 tablespoon Laziz Toum

6

 

large eggs

1/4

 

cup

 whole milk

1/4

cup

 grated Parmigiano Reggiano

Salt, freshly ground pepper
Place a rack in upper third of oven; preheat to 350 degrees. Heat oil in an 8-inch nonstick ovenproof skillet over medium heat. Add Fireball; cook, stirring often, until browned and crispy, about 5-10 minutes. Add shallot and greens and cook, stirring often, until softened, about 5 minutes. Stir in toum.
Whisk eggs and milk in a large bowl. Season with salt and pepper. Increase the heat to medium-high. Pour the egg mixture over the mushrooms, shaking the pan to evenly distribute mixture. Cook the frittata (NO STIRRING!), until the edges begin to set.
Sprinkle 1/2 the Parmigiano over eggs and transfer skillet to oven. Bake frittata until golden brown and center is set, 25-30 minutes. Garnish with remaining Parm and fresh herbs and Chili Beak on the side.