While my friends are getting excited about the newest additions to their families, I'm excited to announce the newest addition to our cheese cave family: Greektown Blue. She's a beauty, with a healthy weight and clean bill of health.
I'm going to stop the baby referencing now before things start to sound morbid. I mean, we are going to eat the cheese, after all.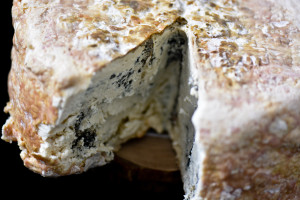 Our first wheel of Greektown was released earlier this week after a four month long stint in our cheese cave. What I find most exciting about this cheese is the fun, geeky process of how it came to be. As we continue the process of developing our first house-aged blue cheese, the flavors will become more consistent and the process will become more rigorous and thorough. I spent a few minutes with our affineuse, Antonia, today to talk about the first wheel. Antonia will be releasing more in-depth information about this cheese very soon, but we just couldn't wait to share it with you.
Antonia has been a busy, busy woman these days. Not only does she care for each wheel of cheese individually, she is also the master behind our house-made burrata while also helping to plan the build out of our second cheese cave. Yes, you read that right. Second cheese cave. We're nearing the end of construction on cheese cave #2 to give us more space to continue our Basque reserve cheeses, Grotte Caputo cheese, and make way for even more delicious projects and releases. You'll be seeing many more posts like this as soon as the space becomes available and ready to house all these magnificent cheeses. Speaking of cheese, let's get back to the blue.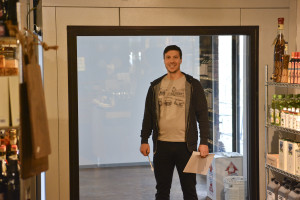 Through all of this craziness, Antonia was still able to pull off aging a fantastic blue cheese. I love a blue cheese this time of year, it suits my seasonal needs and is just the thing I want to snack on with a glass of wine after work.
Our first blue cheese comes to us from a farm near and dear to our hearts, Mesa Farm. Randy and his small herd of well-loved goats from Torrey, Utah send Antonia freshly formed wheels of raw goat cheese made with a feta-like starter culture. Antonia takes over from there, first by rubbing the wheel down with goat butter, salting it with local salt, and then spending time caring for it, taking notes on its progress, and helping develop it into the delicious wheel it is today. Each wheel is pierced upon entry to the cave and left to self-inoculate from there. The wheels are exposed to Antonia and I called a 'blend o' spores' including (but not necessarily limited to) penicillium roqueforti, penicillium galucum, b-linens, and a host of other fun spores flying around the cave.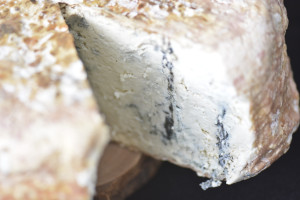 Flash forward four months to the release. We have a lovely wheel with a thin, skin-like rind reminiscent of a French rindless blue cheese. The loosely pressed curd that was originally full of air pockets are now tiny caverns that are home to delicious blue and green hued molds. We're pretty much already in love. The best part is, it's only going to get better. I love to see the process from the outside. Seeing Antonia and Matt collaborate on ways to improve flavor, experiment with different techniques, and, ultimately, make delicious cheese is one of my favorite parts of Caputo's. A close second is always learning the names of our newest releases.
This one is perfect. The name pays homage to both farm, community, and family. Randy's feta starters and light brining before sending wheels our way helped lead us toward a Greek inspired name. This lovely, developing community that is home to our downtown location is Salt Lake's historical Greek community. With Holy Trinity across the street and their annual Greek Fest, it's only fitting that we honor the roots of the cheese and our neighborhood. We can't leave out Matt's maternal Greek heritage, either. We have a lot to thank Greece for, this is our way of saying just that.
Come try this first wheel before it's too late. Like I said, the most exciting part of these new cheese releases is the evolution from wheel to wheel. Taste your way through each release with us, you won't regret it. We're already hooked.