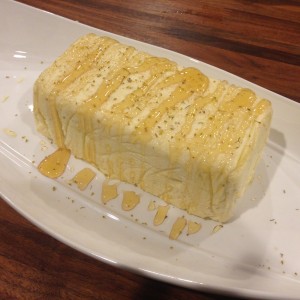 All good things must come to an end, even fennel pollen week. I had way too much experimenting with this special ingredient and we've been reaping the benefits all week long. Plus, we saved the best for last. We're looking at a warm weekend that I plan on filling with lots of outdoor activity and this semifreddo.
Like the name suggests, semifreddo is a semi-frozen treat that gets its decadent and luxurious texture from heavy cream and raw egg yolks. I used to call this the 'lazy-girl gelato' but I find myself making this even when I have plenty of time and energy to make gelato or ice cream instead. It's just that good. Here, honey and fennel pollen combine for that transcendent little pairing discovery that we just can't get enough of.
This is my favorite recipe of the week and I can't wait for you to try it for yourself. I hope fennel pollen has found its way into your hearts and pantries this week like it has ours. Now, how about that weekend?!
Fennel Pollen Honey Semifreddo
Serves 10
1 egg
4 egg yolks
1/3 cup honey, plus more for drizzling
1 tablespoon fennel pollen
1 ½ cups cream
Line a medium loaf tin with plastic film. Beat the fennel pollen, egg, and egg yolks with the honey in a bowl until pale and thick. Whip the cream until it has thickened and doubled in volume. Fold in the egg and honey mixture and pour into the loaf tin. Freeze at least 2 hours or overnight.
When ready to serve, invert the semifreddo onto a serving platter and drizzle with extra honey and another sprinkle of fennel pollen. Serve slices immediately.