With Thanksgiving around the corner, I could feel the pie-anxiety sneaking up on me one chilly fall morning. Baking pies has never been my forte. I had a few hours to kill and some seasonal ingredients in the fridge begging to be used. I figured it was time to come up with what I intended to contribute to Thanksgiving dinner. As the baker in my family, a pie seemed to be the best option. I cracked open my favorite baking book for ideas and was almost immediately swayed away from making a pie, thank God! A gorgeous galette called my name from the first page I flipped to.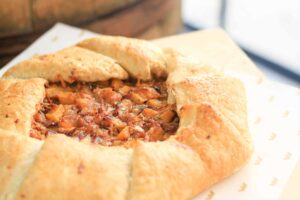 A galette is essentially a pie without the dish. Although this free-standing "pie" of sorts is not meant to hold your creamy pumpkin or other custard pie filling from your grandma's recipe book, it never hurts to switch things up. It may even help you win the unspoken Thanksgiving cook off between relatives. A galette is best suited to be filled with more texturally diverse ingredients such as pieces of sautéed apples, pears, squash, or root veggies and served as a delightful hors d'oeuvre or dessert. It saves a dirty dish, and looks just as, if not more, impressive for the Thanksgiving table.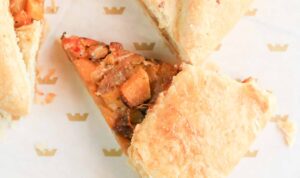 The pastry dough I used for this recipe is a bit more delicate than your average pie crust; therefore, it requires a more attentive process. As a result, the finished product has much less of a risk of a soggy bottom and is much flakier and easier to handle than a piece of pie. Don't hesitate to use a pastry dough recipe that has always worked for you. This, or any galette, is versatile enough to be made using any pastry dough of your choosing.
The filling is a simple combination of caramelized onions, roasted squash, herbs, a little spice, and my favorite goat milk cheese, Chabrin! I used Caputo's cave aged Chabrin Reserve. This Chabrin is aged an additional 6 months in our cheese caves, making a more delicate, fudgy version of its original French-basque version. This cheese lends the perfect amount of funk to the filling to balance out the sweetness from the squash and onions, without feeling like you're getting kicked in the teeth by a goat in each bite. A young Chabrin would also be a wonderful alternative to the reserve, as well as any other mild goats cheese (or any funky cheese that suits your fancy).
This is perfect to serve before your Thanksgiving meal, or even just as a seasonal snack to share with friends or loved ones.
Chabrin, Squash, and Onion Galette
Serves 6-8
Tartine bakery's Flaky Tart Dough
*recipe is halved from original version, to fit single galette
1 cup unsalted butter, very cold
½ cup water
¾ tsp salt
2 1/3 cup All-Purpose Flour
To make the dough, cut the butter into 1-inch cubes and put them in the freezer. Measure the water, dissolve the salt into it, and put it in freezer as well. Chill the butter and water for about 10 minutes.
Measure all of the flour onto your work surface. Spread the flour out into a rectangle about 1/3 inch deep. Scatter the butter cubes over the flour. Toss a little of the flour over the butter so that your rolling pin won't stick and then begin rolling. When the butter starts flattening out into long, thin pieces, use a bench scraper to scoop up the sides of the rectangle so that it is again the size you started with. Repeat the rolling and scraping 3 or 4 times. Make a well in the center and pour all of the water into the well. Using the bench scraper, scoop the sides of the dough onto the center, cutting (mixing in with the bench scraper) the water into the dough. Keep scraping and cutting until the dough is a shaggy mass, and then shape the dough into a rectangle about 10×14 inches. Lightly dust the top with flour. Roll out the rectangle until it is half again as large and then scrape the top, bottom, and sides together again to the original size and reroll. Repeat 3 or 4 times until you have a smooth cohesive dough. You should have a neat rectangle measuring about 10×14 inches. Transfer the dough to a large baking sheet, cover with plastic wrap, and chill well, about 1 hour.
Filling
2 cups butternut squash, cut in ½ inch cubes
1 Tbs unsalted butter
1 tsp crushed red pepper flakes
1 large or 2 small sweet onions, cut into thin strips
1 tsp fresh sage
1 tsp fresh thyme
1/3 lb Chabrin Reserve cheese, grated
salt and freshly cracked pepper to taste
1 egg
1 Tbs water
Preheat oven to 350. While dough is chilling, toss butternut squash in olive oil, salt, pepper, and red pepper flakes, and roast on a lined sheet pan for 30 minutes, or until squash can be easily pierced with a fork.
While squash is roasting, melt butter in a pan, and add onions. Cook on medium-low heat for 30-40 minutes, stirring occasionally. Once onions are half-way caramelized, season with salt and herbs. Add a tablespoon of water if needed.
Remove squash from oven and carefully combine with onions. When cool enough, fold in Chabrin (or cheese of choice), and season to taste.
Assembly
When dough has chilled, fold dough over itself 2-3 times and re-roll until you have a circle measuring about 14 inches in width. Transfer back to a baking sheet lined with parchment paper and chill until firm, about 10 minutes. When chilled, fill the center of the dough with prepared filling, leaving 3-4 inches of dough to fold over filling.
Beat egg and 1 Tablespoon water, and lightly brush over the dough. Bake on a lined sheet pan 50-60 minutes, or until galette looks golden. Top with flaky seat salt of choice.