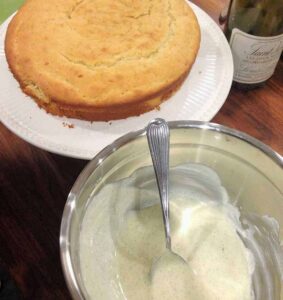 I couldn't give you a week of fennel pollen without throwing some sweet treats at you, now could I? Another reason I love fennel pollen is its ability to transcend the lines that often divide sweet and savory ingredients. It's often easy to place an ingredient beneath the sweet or savory banner, but that is not the case here. If someone asked me to choose using fennel pollen in either sweet or savory applications for the rest of my life, I'd be hard-pressed to choose.
This cake is the stuff of legend as far as I'm concerned. It's not too sweet and gets a hint of tanginess from the buttermilk that is only amplified by the vanilla creme fraiche dolloped on top. I've served this for birthdays, team gatherings, dinner parties, and pity parties. The fennel pollen takes this to a place where warm cake and bright, summery fennel flavors meet and have a dance party on your taste buds. Naturally, you'll want to throw some poached pears or berries on the side of this, which I fully support. This cake- and the creme fraiche- loves fruit. Try it with whatever is in season, or keep it simple with the creme fraiche. Either way, your life needs a little sweetness and you deserve an extra dose of fennel pollen. Enjoy!
Fennel Pollen Buttermilk Cake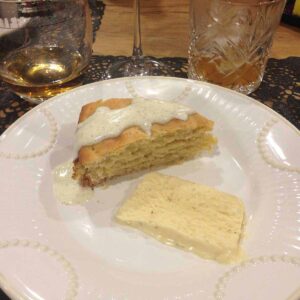 Serves 12
2 ¼ cups all-purpose flour
1 tablespoon baking powder
1/2 teaspoon salt
1 stick unsalted butter, softened
1/2 cup granulated sugar
1/2 cup light brown sugar
4 large egg yolks
1 1/2 teaspoons fennel pollen
2/3 cup buttermilk
1 cup crème fraîche
1/2 vanilla bean, split and seeds scraped
1/4 cup confectioners' sugar
Preheat the oven to 350°. Butter a 9-inch cake pan and line it with a 9-inch round of parchment paper. Butter the parchment paper.
In a bowl, sift together the flour, baking powder and salt. In a large bowl, using a handheld mixer, beat the butter with both sugars at medium-high speed until light and fluffy. Add the yolks, one at a time, beating well between additions. Beat in fennel pollen. At low speed, alternately beat in the flour mixture and the buttermilk until almost blended. With a rubber spatula, finish folding the mixture together just until smooth. Scrape the batter into the prepared pan and bake for about 35 minutes, until a cake tester inserted in the center comes out clean. Transfer the cake to a rack to cool completely.
In a small bowl, combine the crème fraîche, vanilla seeds and confectioners' sugar.
Unmold the cake onto a plate, top with vanilla crème fraiche, and serve.