I've finally done it. I, Adri, of gifting procrastination and of slow wrapping skill, have completed my holiday shopping EARLY.
Try as I might, I have never before been able to finish my to-do list for gifts on time. December 22nd rolls around and I finally realize how behind I am. I run all over the city looking for gifts at picked-over stores and pop-up shops (arms flailing above my head the whole time), and I finally realize the perfect gifts have been right under my nose the whole time. At Caputo's, of course.
Here's what I know: Everyone likes to eat. Artisan food will always be in style. Why not let your friends and family eat the very best and most delicious treats available? Here's your guide to the very best last-minute gifts. One gift for each of the 12 days of Christmas, a la Caputo's: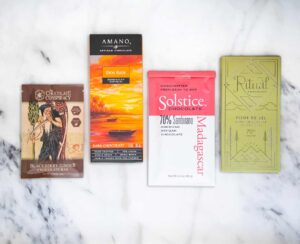 1. Utah Chocolate – You can never go wrong gifting chocolate, especially in Utah. The Beehive State is internationally recognized as a well known hub for craft chocolate, in both consumption and production. Utah is home to five bean-to-bar chocolate companies that are putting themselves on the fine-chocolate map with their artisan bars and dedication to creating the best chocolate possible.  Give your pals a taste of Utah with this perfect collection of fine dark chocolate, all made in Utah.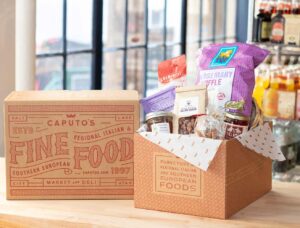 2. Local Treasures Gift Collection – This is the ideal choice for the locavore in your life. We've hand selected seven items that are not only made locally, but they're world-class artisan products. From bean-to-bar chocolate to smoky and savory chili oil, this is sure to please you local-lovin' pals.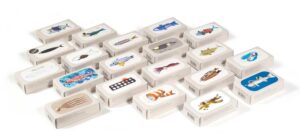 3. Tinned Seafood – It may sound strange to you today, but hear me out. Tinned seafood is about to experience a revival I would liken to the whiskey boom of the past decade or the fermented food craze we're in the thick of now. Sustainable protein in beautiful packaging sounds like the perfect savory stocking stuffer to counter all the sweet things headed your belly's way. (Psst… read more about this food revival here.)
4. Underberg Digestif – We're in the middle of a craft cocktail and bitters revival here, people! Along with some truly fantastic locally made bitters, Underberg is another home bar necessity. These tiny bottles of German digestifs are the perfect spicy backbone for a cocktail or the perfect medicine for an over-filled belly after Christmas dinner. Shake into cocktails or sip solo, either will be a welcome treat to your palate. Stuff into stockings or stock your pals' bars, but be sure to keep a bottle or two for yourself as well.
5. Caputo's Cheese Cave Collection – Our market was founded on our love of cheese, and that love has only grown stronger with our burgeoning cave program. One cave just wasn't cutting it for us. We need more room to to add additional wheels of cheese into their ideal aging environment (it makes them as absolutely delicious as possible, not to mention healthier). Affinage is happening every second.  Wanna know what the cave is all about, or want to share your knowledge? This is the perfect choice. Four of our favorite cave-aged cheeses come bundled and ready to eat. Hopefully they share with you!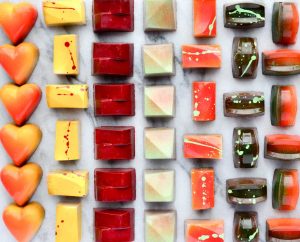 6. Blue's Chocolates – The country's most inimitable filled chocolates live right here at Caputo's. These little treasures are handmade in Berkeley, CA and are only available at Blue's Chocolate stores and Caputo's. Not only does Blue's Chocolates use locally-made Solstice Chocolate, they make products that are utterly divine. One taste will convince anyone of their superiority. The good news for you is that there are plenty of box sizes to choose from. There's a perfect size for each person depending on how naughty or nice they've been this year.
7. Luxardo Cherries – There's something incredibly attractive about shaking a cocktail shaker around like a mad person…or like you know what you're doing. If your loved ones are getting into the craft-cocktail movement and experimenting at home, this is the perfect gift. Luxardo cherries are steeped in history and are the original Maraschino cherry that those chemical red sugar-bombs are attempting to imitate.  Garnish classic cocktails like an Old Fashioned or Manhattan, throw into pork pan sauces, and chop into ice cream custards and cake batters. These will be the jar that empties the fastest this season.
8. Viola Colleruita Olive Oil – An Italian condiment olive oil is the ideal gift for those taking Italian food seriously. If someone on your list is looking to unleash their inner Marcella Hazan, this will become a key finishing component for nearly every dish. Think of the brightest, greenest flavors of summer and now imagine harnessing those very flavors in the dead of winter. This is the way do it. Use this oil for finishing roasted dishes, drizzle over vegetables and protein alike, and save a few drops for your gelato (I'm serious). It doesn't get any more flavorful, or Italian, than this.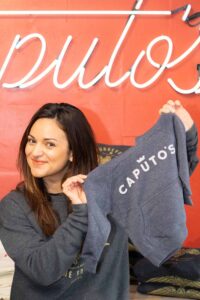 9. Caputo's Apparel – This is our new take on good taste. We're not just gifting with your wonderful taste in food in mind, but we're here to outfit you and yours in Caputo swag, too! Toddlers to adults can rep the Caputo brand all winter in cozy sweatshirts and warm beanies. One for them, and one for you!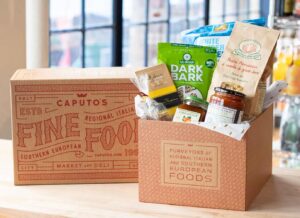 10. Caputo's Classic Gift Collection – If you're fond of the good ol' days and want to share some tasty nostalgia with your pals, this is the collection for you. It's like a shopping spree of our award winning market bundled into a gift, and ready to be unloaded into the pantry or right on into a pot for dinner. Snacks, provisions, sweet indulgence, and the makings for a tasty weeknight meal all rolled into one. What's not to love?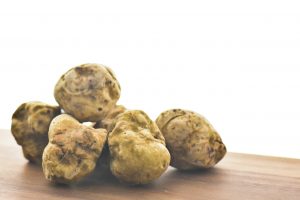 11. Fresh Truffles – For the gourmand in your life. This is it. The most luxurious and ultimately wonderful gift for your foodie friend, or you can use it as the focal point of you holiday meal. We're air-shipping truffles into our downtown market as often as is needed to ensure a fresh, aromatic supply. This friend will have just the recipe to shave these beauties over and I sure hope you get an invitation to the meal. Just the aroma knocks you off your feet, so imagine what your finished entree will do.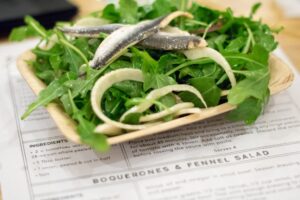 12. Class Certificates – Give the gift of food (or drink!) knowledge. It's the perfect gift for a couple or a friend who might be new to either cooking or the Salt Lake valley. Pick up a certificate for the amount of the class, plus the optional beverage pairing, and let them choose the best class for their calendar and tastes. We'll help you give the exact dollar amount or round up so your giftee can pick up a special little treat after the class. Choose from cheese or chocolate tastings, cooking classes, or whiskey classes. You read that right: whiskey classes! Remember that bucket list from SL Mag? Send them to class!