May is the start for my favorite time of year. Warm weather, spring cleaning, sundresses, barbecues, pitchers of icy cocktails, and lots of shared meals. The warm days are still tempered by cool nights, and the first blooms of spring have now sprung. Here's the list of goodies and treats we're enjoying to help us welcome the month ahead:
CHEESE: Leonora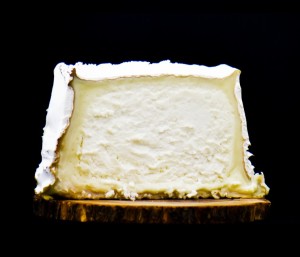 Yep, this should look familiar. We highlighted Leonora last month, but we can't quit this baby. Read what we had to say last month below. This month you can expect a few quick recipes and even more cheese love from your favorite SLC cheese mongers.
If you've visited any of our stores recently—namely downtown—there may have been an incredibly eager cheese monger or two nearly force-feeding you a sample of this little beauty. What you're experiencing is cheese geekiness in its more exuberant, pure form. Leonora was an all-star, staff favorite years ago at Caputo's. We lost it for a long period. All of a sudden this winter, it was back, gracing our cases and palettes with its acidic perfection. This log of pure goat's milk cheese from Leon, Spain, has an intense acidity in its flaky, dry interior, but balances itself with a cream line just beneath its thin rind that makes it its own best friend. Wanna guess what I like to pair with Leonora? More Leonora. If that's an unacceptable answer, then I'd say white wine. All the white wine, to be exact. Stay tuned for musings from Evan, and make sure to come by for a taste of this cheese. It's a knockout. But be warned, no one has ever loved Leonora more than Evan.
CHOCOLATE: Ritual Ecuador 85%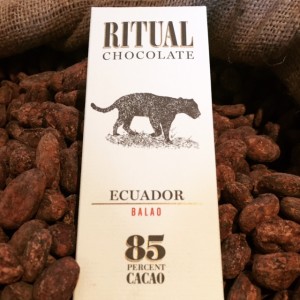 It's true, Ritual is now local! Its lovely chocolate factory and cafe is now open minutes from the historic downtown Park City neighborhood for you noshing pleasure. Check them out the next you visit Park City, but don't forget you can still get all of their amazing bars at each of our Caputo's locations. We're often not as fond of chocolate that has more than 75% cacao content (cacao really blossoms with the addition of sugar) but this 85% bar from Balao, Ecuador, has us rethinking what it means to be really dark and really good. The surprising sweetness offered by this high percentage bar is a pleasant surprise, making it both easy to eat and incredibly flavorful.
Added bonus: This high percentage bar is all cacao. It's not a 75% bar with added cocoa butter to raise the percentage, which speaks to the true craftsmanship and artisanal element of all things Ritual. You'll notice when trying a Ritual bar that there is an exquisite snap on your first bite and silky smooth mouthfeel, all due to long conch and attention to detail—down to the microscopic proportions. What's more, a higher percentage of cacao, especially with brands like Ritual with no addition of cocoa butter, make this an easy choice for ice creams and semifreddo applications. Higher cacao content = deeper chocolate flavor. Milk powder and extra sugar often hinder my attempts at extremely flavorful frozen chocolate treats, but the key lies in percentage. Make your own batch of ice cream or semifreddo and see what I mean—you won't regret it.
SAVORY: Chili Beak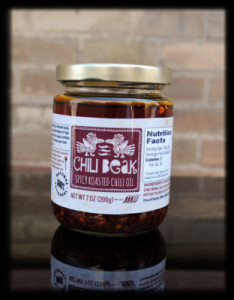 For me, this is not a craving, this is a straight up addiction. I. Can't. Stop. That said, this should be on your list for new local products, and it deserves a great deal of attention. Picture this: You're in the middle of devouring one of your favorite entrees and realize it could really benefit from a little extra spiciness. Vinegar-based hot sauces often take over any dish they're dashed onto, and you end up with a mouthful of acidity and a lingering, odd heat from who-knows-what-kind of pepper. Not anymore, friends, not anymore!
Chili Beak is made with four ingredients: dried Mexican chilies, sunflower oil, garlic, and Utah salt. The result is a so-sexy-smooth oil-based hot sauce that lets the chilies do the talking. You get a slowly-developing heat that is made even more addicting by good seasoning. That missing acidic component from vinegar lets even the most delicate flavors of your original dish shine while still being able to enjoy the introduction of both heat and flavor. Crazy, right? I'll provide plenty of recipe ideas in the weeks to come, but start off with my favorites ideas—simple add ons. Give your jar a loving stir, and drizzle over your morning eggs, mix into your favorite mayonnaise or aioli, and stir into your favorite hummus. You'll find yourself reaching for this multiple times a day, and we don't blame you, we're doing the very same thing.
SWEET / DRINK: Bittermilk Charred Grapefruit Tonic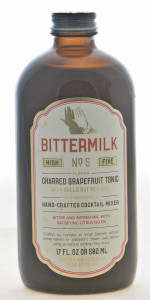 Meet your new secret ingredient for the easiest and most impressive home cocktails. Fans are singing praises for Bittermilk across the country, and the full line of Bittermilk has already been highlighted in the Wall Street Journal! Joe and MariElena Raya are the owners of Gin Joint in Charleston, South Carolina, and the makers of our newest all-natural cocktail go-to. Simply mix your Bittermilk of choice with a spirit and ice. Voilà: a cocktail, and an impressive one, too. Add a garnish if you insist, but how easy does that sound? No more muddling, peeling, and hunting for a whole shipping cart full of grocery items to serve your friends a delicious libation. You just need this lovely bottle and a quick jaunt to the liquor store.
With six fantastic concoctions, there's an option for every spirit and every soul. Whiskey fans? They've got a few for you. Clear liquor only? Fret not, this Charred Grapefruit Tonic works with gin, vodka, AND rum. Try them all—we have. We're currently digging this in particular because of its multiple uses; plus, spring feels like the perfect time for a fun spin on a the classic gin & tonic. We're big fans, and we hope you'll join the club.
Enjoy this lovely month of May, fellow Cravers. We cannot wait to help you find these at your local Caputo's, so don't be shy. We'll guide you to your craving of choice, and send you on your way with a bounty of ideas on how to prepare them. I hope you'll adore these cravings as much as we do!