So there I was, happily noshing away at a slice of Adelle in my kitchen. I'm relishing in the funky flavor, fresh texture, and all around amazingness that has been created by Ancient Heritage creamery in Portland, Oregon. The mix of sheep and cow's milk make this both creamy and flaky in texture, sweet and funky in taste, and has a rind that only adds to the flavor. It may be just a tad too funky for some, and I wanted to find a way to make this a hit for everyone this weekend at a brunch party. I often reach for fruit to make any cheese more approachable, and this was no different. Amour Spreads'  Apricot Rose jam loves cheese as much as I do, and cheese and jam belong together at every brunch. Oh, you want to make it fancier, you say? Wrap it in puff pastry and bake it. Boom. Melty, gooey cheese with sweet, floral jam and baked pastry dough… Mom is going to love you.
Baked Adelle
Serves 4-8
1 wheel Adelle
3 tablespoons jam, plus more for serving
1 sheet puff pastry, thawed
1 egg, beaten
Crackers, fruit, or baguette, for serving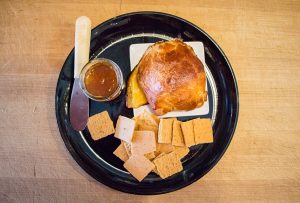 Preheat oven to 400 degrees. Roll pastry out to about a 10 inch diameter. Slather the top of the wheel of cheese with jame and place jam side down on the puff pastry. Wrap pastry around the wheel of cheese and press to seal seams. Place in the center of a parchment lined baking sheet and brush with beaten egg. Bake 25-30 minutes or until golden brown.
Allow cheese to rest at least five minutes before serving. Serve with crackers, sliced fruit, or baguette and more jam to spread on top.