Moms deserve a day of spoiling, and it is our duty to do so. After all the dirty diapers, temper tantrums, homework help, fighting over curfew, learning to live alone, and then finally realizing she was right all along, it's fair to say she is owed more than a few indulgences. Here's what our moms are getting this year:
Take a Class
There is nothing cliche about giving Ma the gift of continued education, especially when said education revolves around chocolate, cheese, and other delicious ways to enjoy herself. Our summer schedule is filling up quick, but there's still plenty of time to get in on the fun. The best part about this gift is joining her for some quality family time and reaping the benefits of both chocolate education and chocolate consumption with her!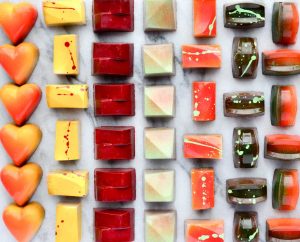 The Chocolate Box
If Mom is a busy one these days and can't join you for a class, upscale chocolate never hurt anyone. Chocolatier Blue started in Alpine, Utah, but has since relocated to Berkeley, California. Despite the move, Chocolatier Blue uses Salt Lake made Solstice Chocolate for each filled chocolate. There is not a better filled chocolate in the country and you know your mom deserves the best there is. Select from a range of box sizes and flavors, we'll fill them to order so you can select which flavors your mom will like best.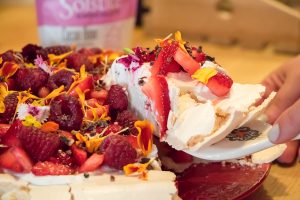 Dessert – Flowers & Cacao Pavlova
There's always something incredibly satisfying about cooking for mom, and doing it well. This beautiful dessert is a welcome treat for any gathering and perfect to wow mom with. Added bonus, the hardest part can be done in advance so mom doesn't have to see you struggle or hear any expletives that might leave your mouth during the process. You can arrive with premade components, easily assemble them, and present a treat fit for any mom.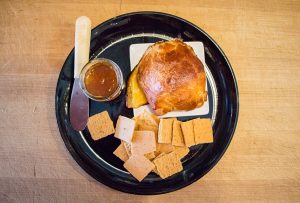 Brunch – Baked Adelle
Any holiday is a good time for cheese.  ANY DAY is a good day for cheese, but especially Mother's Day. Wrap our favorite bloomy rind cheese in puff pastry, douse it with your favorite jam (mine is Amour's Apricot Rose for this recipe) and serving a warm, gooey, bubble of cheesy goodness to your mom, and the rest of your family if she decides to share it.
Bar and Bitters
Remember all those nights your mom spent worrying about you for one reason or another? No? I'm sure she remembers, and I'm sure she could use a drink to recover from those long, stressful years. If your mom appreciates a well-made cocktail, get her the ingredients to make her own at home! Luxardo cherries, countless bitters, and assorted bar syrups are a great place to start. Plus, one she hones her skills, maybe she'll share those cocktails at the next family gathering. One can hope, right?
There you have it. Our top gifts for the best moms out there. Hey Moms, happy Mother's Day! We hope you get showered with love and spoiled with treats!