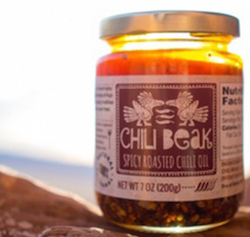 I've developed a newfound affection for Southern cooking over the last two years. It's not something I make as often as the Mediterranean fare, but it's always an anticipated and welcomed evening for myself and my hungry friends. We've always begun with staples fried chicken and buttermilk biscuits, then added vegetable sides depending on seasonality. I was craving a spicy component with this last Southern kitchen evening, and it landed in an unlikely place: my biscuits.
I love a fun twist on a classic recipe, and I love it even more when Chili Beak makes creating that twist easy and delicious.
Biscuits are one thing I have a firm opinion on and process for. I may be a New Mexican at heart with my roots firmly planted in Utah, and my cooking may be mostly Mediterranean, but I still believe in my biscuit method.
Unwavering opinions:
1. Always use buttermilk: you'll end up with shorter, drier, blander, and definitely sadder biscuits without it.
2. Never over mix: we want big pieces of butter here. Big bits equals big, flaky air pockets
3. Never twist your biscuit cutter: when cutting, you want to use a straight up-and-down method; twisting closes off those butter pockets and makes biscuits less flaky.
With all that out of the way, let's talk about the biscuit.
They are, of course, perfect as a side for supper; however, my favorite time to consume these is during breakfast. Egg, cheese, biscuit, extra Chili Beak, and a cup of coffee make for my perfect Saturday morning. Enjoy!
Chili Beak Biscuits
Makes 10-16 biscuits
2 cups all-purpose flour
1 1/2  teaspoons sugar
1 tablespoon baking powder
1/2 teaspoon salt
3/4 teaspoon baking soda
10 tablespoons cold, unsalted butter, cut into small chunks
3 tablespoons Chili Beak, solids only
3/4 cup buttermilk
Preheat oven to 400 degrees. Scoop 3 heaping tablespoons of Chili Beak into a fine mesh sieve. We'll use the solids for the biscuits. Save the oil for brines, salad dressings, or to finish roasted veggies.
Whish flour, sugar, baking powder, and salt together. Mix in pieces of butter with a pastry cutter, two knives, or pinch between your fingers until the mixture resembles a very coarse meal (remember, big chunks are your friend). Stir buttermilk and Chili Beak in until mixture forms a raggy dough. Use your hands to finish mixing until the dough just comes together. Wrap in plastic and refrigerate for at least 20 minutes.
Roll dough out until about 3/4- to 1-inch thick. Use a biscuit cutter to cut straight through dough. (I use a larger size cutter for breakfast sandwich biscuits, smaller when used for a dinner side). Set biscuits on a parchment-lined baking sheet about 2 inches apart. Bake until biscuits are golden brown, about 12-15 minutes depending on the size of your biscuits. Serve warm with butter and more Chili Beak. We also tried some with raspberry jam, the sweet/spicy combo was delicious.