Guys, it's coming. You now have six days to find someone to love in time for the big day. It's cheesy, sappy, silly, and I just can't get enough of it! I love love, I love Valentine's Day, and I love giving (and receiving) all the lovey-dovey little gifts. Need some inspiration? I've got your back. Here are our top picks for your Valentine. The best part about all of these is that you'll hopefully get to share in the joy of them. You can't really share your Valentine's perfume or jewelry, so these picks are just as good for you as they are for your Valentine!
Now, let's get to those gift picks.
1. Chocolatier Blue

I've already said it once, but I'll say it again… Don't be a sad cardboard box chocolate gifter. Be the ultimate Valentine with the ultimate chocolates. The most decadent, unique, and crave-able chocolates are here at Caputo's. Whether you've been here once or one hundred times, you know what I'm going to say — dearest friends, Chocolatier Blue. Pick from a variety of box sizes ranging from six pieces to 30. The six-piece boxes are perfect for friends and family, or for that date you cancelled on last week. The 30-piece is basically a declaration of your undying love and dedication.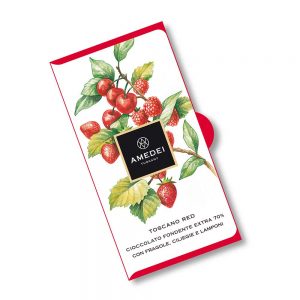 2. Amedei Toscano Red
Amedei is top notch, but you knew that. What you may not know is the masterful and unexpected inclusion bars are nothing short of addicting. Here, deep, dark chocolate meet freeze dried raspberries, cherries, and strawberries pieces for a pleasantly tart crunch. This bar is actually perfect for this month. You get transcendent dark chocolate, which is exactly what I crave after a long, cold day or big meal, with pieces of fruit that really taste just like the middle of summer. My two favorite seasons meet in this lovely little package.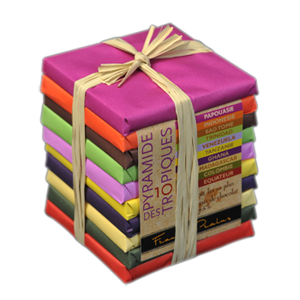 3. Francois Pralus Chocolate Pyramids
Matt Caputo is more than just my boss. He's truly brilliant, the brains of Caputo's market selections, and a worldwide authority on chocolate (he's also pretty cool). Matt says it best when it comes to Pralus, "As it goes with most French chocolate makers, Francois Pralus walks the line between dark roast and burned. Imagine barbequed cacao. This season Pralus' Djakarta, Indonesie and Madagascar are revelations. We never know which bars will shine, but each year we know that several of his bars will be among our absolute favorites. Pralus offers a huge array of 75% dark bars with rare and common origins."
Drooling? The pyramids are your answer. Sample the decadent offerings with one of Pralus' perfectly gift-able pyramids collections of chocolate. You will…, er, your Valentine will get to experience a large portion of these fantastic chocolates in one fell swoop. I hope you picked a generous mate, you'll want to try these.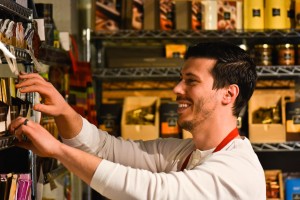 4. The Introduction to Fine Chocolate Class
See that guy? That's Matt. The brilliant, chocolate geeky, totally rad person I was talking about above. His Intro to Fine Chocolate class made it onto Salt Lake Magazine's bucket list of things to do in good ol' Salt Lake. This is our most popular tasting class. Learn what makes one chocolate "fine" and the other just "standard." Find out how to identify flavors, get familiarized with great chocolate makers, and learn other priceless bits of chocolate know-how.
It's the perfect date night. You get to learn about the greatest treat to ever exist with, hopefully, your very own favorite human (a.k.a. your date). We're teaching chocolate classes at each of our locations, so you can find the perfect time for you. Check out our full schedule here.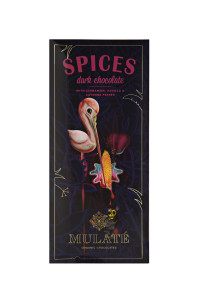 5. Mulate Spices Bar
We introduced you to Mulate with our January cravings, but our obsession is only becoming stronger. From the makers of Chocolate Naïve comes Mulate, the funky fresh younger brother to the sophisticated Naïve line. This bar epitomizes the classic flavors of Central America. Vibrant dark chocolate is emboldened by the warm flavors of cinnamon and vanilla with a spicy finish from ground cayenne.
Let's put it this way: If Valentine's Day had an exclusive flavor associated with it the same way Christmas owns those warm baking spice flavors of clove ginger, cinnamon, and nutmeg — this bar is it. Warm, sexy, and spicy. Really, it's perfect.
Happy Valentine's Day, friends. I hope you have the most perfect, loving, and delicious day. I also hope your Valentine loves you enough to give you something like the delicious things above. If not, come visit us. You owe yourself some chocolate love any day.