The Tuesday Farmer's Market at Pioneer Park is a much anticipated event for many. It signals the beginning of a bountiful harvest and the last weeks of summer. Tuesdays are a smaller, quieter, and food-focused version of the Downtown SLC Farmers Market on Saturdays. I can stroll listlessly through the handful of stalls in the early evening rather than navigating a path, elbows first, through a sea of fellow food lovers in the early hours of Saturday. There's more time to chat with farmers about different varieties of fruits and vegetables, more time to make a wise choice, and much less traffic or other elbows.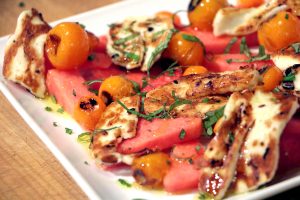 My first Tuesday purchases were huge, heavy heirloom tomatoes, a small basket of cherry tomatoes, a perfectly ripe watermelon, bread, and greens. Greens, bread, and heirloom tomatoes were bought for specific purposes. The cherry tomatoes and watermelon were for halloumi, but I wasn't quite sure how they'd all come together, or if one would be chosen over the other. Bon Appetit's recipe inspired me to create an easy, fresh way to incorporate both components with what Evan has dubbed "the cheese that grills."
As previously mentioned this month, Halloumi has the uncanny ability to grill or brown, without ever melting. It always feels strange to lay pieces of cheese down on a fiery hot cast iron pan and see it sizzle and brown rather than melt into a cheesy, goopy mess. The salty, sheep's milk cheese mingles perfectly with fresh, sweet watermelon and warm, charred tomatoes. A sprinkling of chopped mint and basil elevate the aroma and fresh factor, while a decent dousing of Viola EVOO is the perfect finish, because duhhhhh, Viola. Note: I finish everything with Viola, because it makes everything infinitely more delicious…and because I can.
This a lovely, plated salad for two to four people, but also a lovely addition to a large barbecue. Lay components in clean lines for a fancy-schmancy buffet-worthy dish. Either way, these ingredients are all in season, and you deserve a delicious salad in your life. Go on, enjoy.
Watermelon and Halloumi Salad 
Serves 2-4
1/2 pound rindless watermelon slices, cut into triangles
1 tablespoon olive oil, for cooking
8 slices  Halloumi Cheese
12-16 cherry tomatoes
Chiffonade of 6 basil leaves
1 tablespoon chopped fresh mint
Viola olive oil, or another condiment grade olive oil for drizzling
Kosher salt
Heat a small cast iron pan over medium heat. Lay watermelon slices on a plate in a whimsical pattern (or in a uniform one if you like that). Season with kosher salt. Add oil and tomatoes to the cast iron; roll tomatoes around the pan every two minutes or so until sides begin to brown and skins burst. Remove to a small bowl to cool slightly. While tomatoes are cooling, lay 4 slices of Halloumi Cheese on the cast iron pan, letting brown for about one minute before flipping. Remove halloumi, and lay over watermelon slices. Scatter cherry tomatoes across the plate, sprinkle with basil and mint. Add more salt if desired, and finish with a good drizzle of condiment oil. Serve immediately.